For the best quality tattoo services – talk to some of the best tattoo artists for direction and guidance in selecting the subject, style, look and feel  of your custom designed tattoo, sleeve, or full-back piece…
During the estimating/evaluation process:
We schedule an in-person consultation to go over placement, size, direction of design, scheduling availability, and pricing.
A deposit will be required to secure a booking slot to get your tattoo.
Famous Tattoo Works provides a clean, sterilized, respectful & professional environment
*Shirts, Stickers & gift cards are available for purchase at the shop.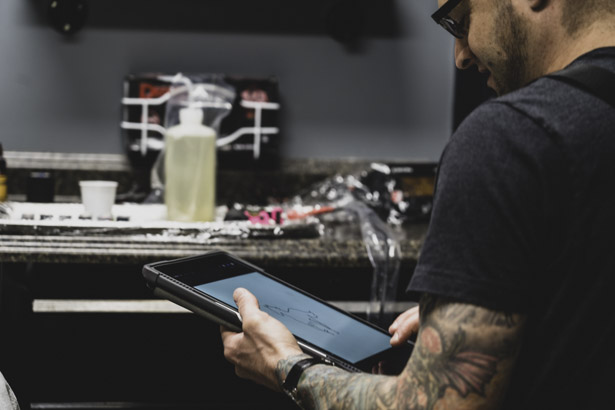 How much does a tattoo cost?
We generally start at $100 & then charge $150 per hour after that. We give an estimate on a tattoo based on complexity and our over two decades of experience. Shop policy is to place a $100 deposit to secure an appointment. Payment is due upon completion or partial payment upon session completion. Talk to us when booking if you have questions or would like to make any special arrangements.
Do you take Credit Cards?
Yes, Famous Tattoo Works accepts all major credit cards. An additional processing fee will be added to the charge.
Do you do piercings?
At this time, Famous Tattoo Works does not do piercings.
What customers do you refuse?
You must be at least 18 years old to get a tattoo in the state of Pennsylvania. Beyond that, rude people, drunk or clearly high individuals will be refused service. We reserve the right to refuse service to any individual based on behavior. We do not discriminate based on race, sex or sexual identity.
What safety measures do you use?
All needles, ink containers, gloves, etc. are new. We go above & beyond health & safety regulations ensuring all equipment is sterilized & cleaned thoroughly according to state & industry guidelines.
Should I tip my artist?
While tipping is not required, it is always appreciated!
A new tattoo can be tender and will feel a bit like a sunburn. The care of your tattoo is your responsibility. How you care for it in the first few days determines the way it will look forever.
Recommended aftercare products:
Soap: Liquid antibacterial soap.
Lotion: Colorless and fragrance-free lotion.
DO
Wash hands thoroughly with soap and water.
Remove bandage carefully – wet in shower first if it seems to stick.
Wash tattoo with warm water and a mild soap, lathering with hand.
Rinse tattoo well with warm water, until surface of tattoo feels squeaky clean.
Pat tattoo dry with a clean, disposable paper towel.
Apply small amount of lotion or ointment to tattoo and work into skin.
Blot excess lotion or ointment with a clean paper towel.
Tattoo should not be greasy – LESS IS MORE!
DO NOT
Do not re-bandage tattoo!
Do not use washcloth, loofa, or sponge to wash tattoo!
Do not dry with a towel. Cloth towels can harbor bacteria!
Do not touch tattoo with dirty hands! Do not let anyone else, either!
Do not apply excessive lotion or ointment. Tattoo should not look "soggy"
Do not use products containing aloe vera, alcohol, or cortisone.
Do not expose tattoo to natural or artificial sunlight for a minimum of 3 weeks
Do not soak in tub, pool, or lake. All contain bacteria!
Do not pick or scratch tattoo! Use a little lotion for itching.
Healing tattoos will peel and flake; small bits of colored skin will shed. It may not look as "crisp" as the first few days and may appear "hazy". This is completely normal and will clear up in 2- 3 weeks. Continue to wash and dry tattoo twice a day, morning, and night, as directed for in day one. Apply lotion 4-6 times / day, being sure to use a small amount only, and work it in.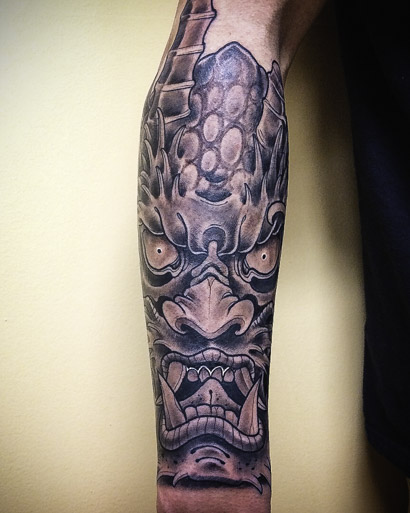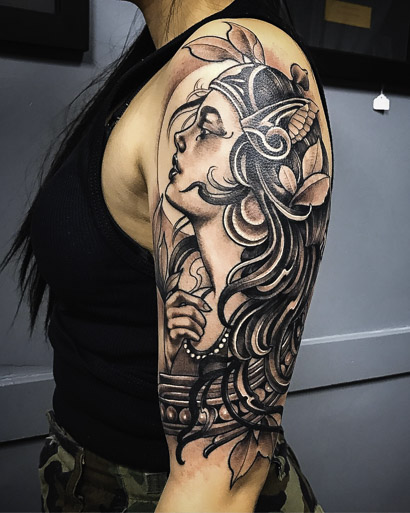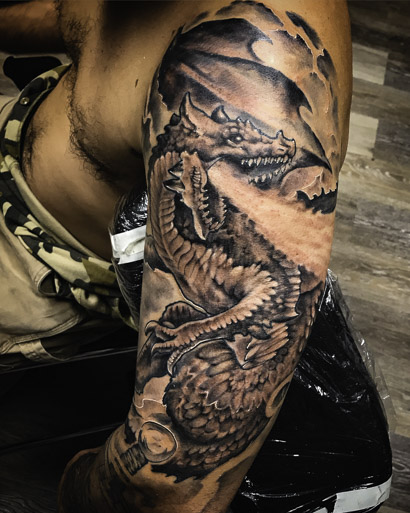 If you have questions or concerns, need to discuss artwork, commission art, or just have general questions not answered in our FAQ…